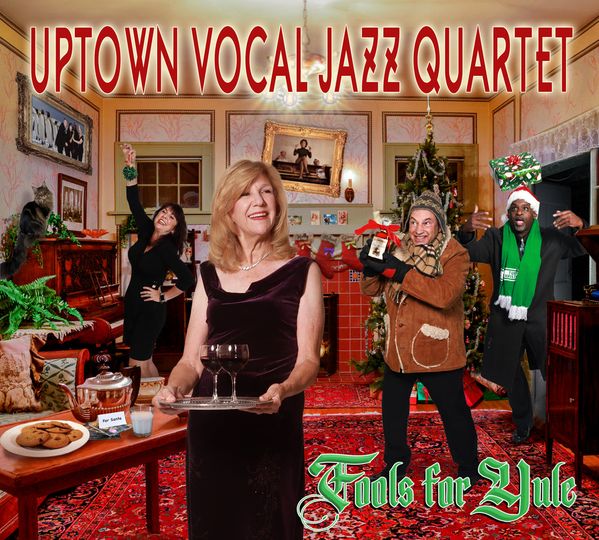 Fools for Yule
Save on multiple orders:  $2 off each CD when you purchase two or more copies of "Fools for Yule."  Use coupon code 2FOR30 at checkout.
The Story
Uptown Vocal Jazz Quartet is back with a new CD just in time for the holidays! The vocal quartet and their supporting musicians have put their creative stamp on the timeless art of sizzling, swinging 4-part harmony vocal jazz with their original songbook recordings such as "Hustlin' for a Gig" (2012) and their collaboration album with alto saxophonist Richie Cole ("Vocal Madness," 2014). "Fools for Yule" dishes up a smorgasbord of brand new original holiday songs by the group's leader, songwriter / arranger Ginny Carr Goldberg, along with UVJQ's delightfully fresh takes on holiday classics by Vince Guaraldi, Mel Tormé, Irving Berlin and more. Uptown Vocal Jazz Quartet's celebrated songwriting, hip arrangements, joyful delivery and eclectic performance range are on full display with this very special seasonal album. 
Uptown Vocal Jazz Quartet: 
Ginny Carr Goldberg, Robert McBride, Holly Shockey, Lane Stowe 
Musicians: 
Frank Russo (drums), Max Murray (bass), Alan Blackman (piano), Donato Soviero (guitar), Chuck Redd (vibes), special guest Keith Carr (Irish bouzouki) 
Behind The Scenes
Click each panel for an inside look at the songwriter, arranger, performance and production credits.