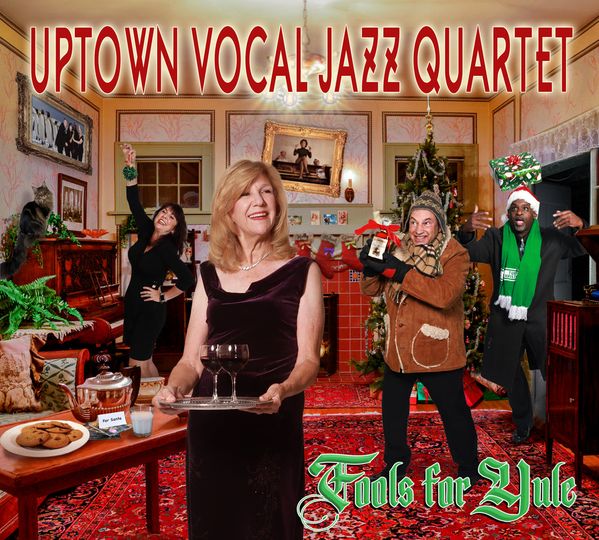 The Story
Uptown Vocal Jazz Quartet is back with a new CD just in time for the holidays! The vocal quartet and their supporting musicians have put their creative stamp on the timeless art of sizzling, swinging 4-part harmony vocal jazz with their original songbook recordings such as "Hustlin' for a Gig" (2012) and their collaboration album with alto saxophonist Richie Cole ("Vocal Madness," 2014). "Fools for Yule" dishes up a smorgasbord of brand new original holiday songs by the group's leader, songwriter / arranger Ginny Carr Goldberg, along with UVJQ's delightfully fresh takes on holiday classics by Vince Guaraldi, Mel Tormé, Irving Berlin and more. Uptown Vocal Jazz Quartet's celebrated songwriting, hip arrangements, joyful delivery and eclectic performance range are on full display with this very special seasonal album.
Uptown Vocal Jazz Quartet:
Ginny Carr Goldberg, Robert McBride, Holly Shockey, Lane Stowe
Musicians:
Frank Russo (drums), Max Murray (bass), Alan Blackman (piano), Donato Soviero (guitar), Chuck Redd (vibes), special guest Keith Carr (Irish bouzouki)
Reviews
"The fifth album by the Uptown Vocal Jazz Quartet is the warm and humorous "Fools For Yule."  This 21st-century group has absorbed shredded, woodshedded and distilled all the influences of their 20th-century musical ancestors and seem to be finding their own voice. While not quoting any famous jazz solos- one of the qualifiers of the vocalese style- the UVJQ have five humorous and snappy originals that appropriate the genre. The arrangements of the new songs and the other six mostly well-known favorites make their holiday record jazzier than those of the other vocal groups mentioned in this rundown. The originals feel as comfortable standards. Plus the much simpler production values also [give] the UJVQ a cozier feel when played against their more prosperous and shinier older musical cousins."
– 

Mark Ruffin, JAZZIZ Magazine (

Swingin

' 

the Season: Holiday Album Guide 2021)
"If you dig jazz vocalese, then this is the holiday album for you. Vocalist Ginny Carr Goldberg leads and serves as the chief arranger for this vocal-jazz quartet along the lines of Lambert, Hendricks & Ross or Manhattan Transfer. She and her fellow singers (Robert McBride, Holly Shockey, and Lane Stowe) are ably backed by a quintet that includes vibraphonist Chuck Redd. Goldberg also wrote four songs for the album, but it's her exquisite arrangement of the Vince Guaraldi classic "Christmas Time Is Here" that really stood out for me."
–

 Lee Mergner, Jazz Times Magazine
"Before you simply scroll past to say, "Oh boy, another Christmas recording," stop. This one is different, hip and fun. If you remember the classic done by The Manhattan Transfer years ago, which you may have well memorized by now, you are ready for another one. "Fool For Yule" is entertaining, wry, and, in its way, a bit, arch. "It Doesn't Feel Like Christmas" is a tune that anyone over a certain age can appreciate, in its way not sad, but wiser. If there is an adult Christmas song, this is it. Did you know "Winter Wonderland" has a verse? It's here, and a scat chorus that recalls Jon Hendricks. "Santa Dear, Where's Mine?" Oh, boy. Santa Baby, it's cold outside. Worth the price of admission alone. Amahl and the Night Visitors this is not, for sure. But something for everyone here.  Even "The Christmas Song" for purists."
– 

Richard Salvucci, All About Jazz
"Fools for Yule is a wonderful Christmas record from the Uptown Vocal Jazz Quartet, a remarkable team of vocalists accompanied here by an excellent band. The delightfully tacky album art reveals the jolly spirit this team brings to the Holiday, but they are true professionals throughout. Well arranged, impeccably delivered, perfectly produced, I wouldn't be surprised to hear selections from this album on the radio. It's a joy to sit back and enjoy this talented team of vocalists, and also to enjoy the space given to the band. The Uptown Vocal Jazz Quartet is known for adding new compositions and arrangements to the canon and they don't disappoint at the holidays, four of the titles are group originals. Fans of vocal jazz teams like The Manhattan Transfer will be thrilled with this group and should immediately explore their many previous albums. At Christmas this album will be a success with any crowd."
–

Joe Bebco, Syncopated Times
"These delightful throwbacks to such harmonizers as Swingle Singers and Singers Unlimited bring their four-part swinging to bear in service of the holidays this time out.  Mixing chestnuts with some sly originals, Sinatra would certainly approve of this at one of his holiday gatherings and so should you.  Well done." 
–

 

Chris Spector, Midwest Record
"Delightfully different seasonal songs Uptown Vocal Jazz Quartet – FOOLS FOR YULE: The recording is flawless on traditional songs like the classic "Winter Wonderland"… A really swingin' vibe will turn Christmas into the splendid season we all remember from years past on the title track, "Fool for Yule"… you'll be tappin' those toes and snappin' those fingers all day long to this delightful tune, I've no doubt. The vocal blending on the closer, "Silent Night", is better than any performance I've heard of that wonderful tune… pure vocal beauty! I give Uptown Vocal Jazz Quartet a MOST HIGHLY RECOMMENDED rating, with an "EQ" score of 4.99 for this excellent seasonal album."
–

 

Dick Metcalf, Contemporary Fusion Reviews
"Sophisticated best describes the Uptown Vocal Jazz Quartet's approach to the holidays as evidenced in their imaginative and well performed Fools for Yule. Concentrating outside of the typical holiday fare, the group zings with the Ginny Carr Goldberg's clever "Fool for Yule" and quietly expressed "Whisper," while, "Dear Santa, Where's Mine" and "Christmastime is Here" both deftly arranged by Goldberg, providing a certain fragrant seasonal bouquet. Goldberg's arrangement of "I've Got My Love To Keep Me Warm" sparkles with a bright swing and hipness. An upbeat " Winter Wonderland" and impressionistic "Silent Night" stand out as the exceptional standards."
– 

C. Michael Bailey, All About Jazz
"This festively luxurious album opens on the lush, finger-snapping harmonies of I've Got My Love to Keep Me Warm and the joyous rhythms of the title track Fool for Yule which are followed seamlessly by the ornately sculptured balladry of Christmas Time is Here, their gorgeous rendition of the timeless Winter Wonderland, and both a vocally magical Whisper and the gentle French-imbibed hipsway of L'Amour Nous Entoure Ce Soir is brought forth. Next up is the rather lovely Barber Shop Quartet-hued The Christmas Song and the solid fare of Santa Dear, Where's Mine? which are in turn backed by the simply heavenly, operatically-imbibed St. Ita's Vision, the album rounding out on the harmonious It Doesn't Feel Like Christmas, closing out on a magnificent, soaringly acoustic Silent Night."
– 

Anne Carlini, Exclusive Magazine
"The pristine harmonies of the Uptown Vocal Jazz Quartet are a joy. While the title Fools For Yule might have you assuming this one is a jokey performance, it's anything but. This is a stirring, heartfelt set of jazz vocal takes on classic holiday tunes, buoyed by originals by leader Ginny Carr Goldberg. Perfect for fans of the Hi-Los or Manhattan Transfer. Or anyone who enjoys light, engaging harmony."
– Ross Boissoneau, Northern Express
"There's nothing like a good vocal chorus to enhance the holiday spirit.  These four talented singers bring not only their best voices to interpret familiar holiday tunes, but they also offer a few new, original songs for us to consider.  Here is an album of holiday music that will warm any chilly winter evening with their lovely harmonics and beautiful vocal arrangements."
–

Dee 

Dee

 McNeill, Musical Memoirs
"Building acclaim whenever and wherever it appears, the Uptown Vocal Jazz Quartet will surely add some more rave reviews to its clippings with its first holiday effort, Fools for Yule, on which the quartet's strengths are in full flower. The result is a seasonal album worthy of regular rotation in any Yuletide fan's collection.

"That the mood is easygoing throughout is indicative of the group's command of tone and texture in being easy on the ears but also challenging on its own terms without diminishing the warm, cozy mood sustained throughout. It's a team effort. Vocalists Ginny Carr Goldberg, Robert McBride, Holly Shockey and Lane Stowe are accompanied solidly by their regular stalwart trio of Alan Blackman on piano, and the redoubtable rhythm section of bassist Max Murray and drummer Frank Russo. Expanding the combo, Donato Soviero sits in on guitar and Chuck Redd adds tasty vibes to the mix. The most surprising wrinkle in the proceedings is tender, tightly harmonized rendition of "Silent Night" lent added beauty by an evocative solo break courtesy special guest Keith Carr on Irish bouzouki—a moment so totally unexpected but so rich in atmosphere as to set this version apart from all the standard renditions you've heard.

"Otherwise, the fare is a blend of holiday standards and five originals by Goldberg (who does all but one of the album's arrangements, with McBride arranging Samuel Barber's "St. Ita's Vision" with Goldberg on piano), McBride and Shockey, the latter penning one of the long-player's humorous highlights with her slow boiling ultimatum as Mrs. Claus to her beloved to pay more attention to his mate in "Santa Dear, Where's Mine?" ("I'll keep it really simple but I'll lay it oh the line/I won't resort to crying/but Santa dear, where's mine?"), which also features Blackman's cool Guaraldi-like piano break. Goldberg's soothing piano-based ballad, "Whisper," is handled tenderly as a lullaby and is followed by another Goldberg gem, the French language, Latin-tinged "L'amour nous entoure ce soir" ("Love Surrounds Us Tonight") to the first touch of exotica to the proceedings not only in the male-female pas de deux vocal treatment but in a tasty guitar solo courtesy Soviero.

"McBride's warm guitar and the singers' low hum provide a soft landing into the rarely heard verse of "Winter Wonderland" before the arrangement settles into a gently swinging groove that it breaks out of in strutting fashion, complete with a scatting break much in the style of a Jon Hendricks foray from yore; "Christmas Time is Here" honors the Vince Guaraldi-Lee Mendelson original in spirit but offers it in introspective fashion, both in the smooth, low-key vocals and instrumentally in moody piano and bass solos that capture a reflective feel appropriate to the closing lyrical sentiment's winsome wish, "Oh that we could always see/such spirit through the year." A take on Mel Tormé's "The Christmas Song" distinguishes itself with an a cappella vocal arrangement adding heightened intimacy to the song's Yuletide vignettes—you can practically feel the warmth emanating from chestnuts roasting by an open fire. In short, wonderful work by the Uptown Jazz Vocal Jazz Quartet in fashioning a Yule statement built to last."
– David McGee, Deep Roots
"Part of its appeal is in the fact that there are several original numbers written by Ginny Carr Goldberg, who also co-produced the album. Part of it is that these vocalists obviously have a sense of fun and joy about what they do, which is obvious from the album's cover (or the covers of any of their previous albums, for that matter). But the main draw of this release, of course, is their vocal talent."
–

Michael Doherty, Michael

'

s Music Log
"On a delightful album that celebrates the spirit of seasonal music and joy, the Uptown Vocal Jazz Quartet does a wonderful job singing an eclectic mixture of traditional, contemporary, and original material.  Their enthralling music provides just the cure for a hectic holiday season. The Uptown Vocal Jazz Quartet is Ginny Carr Goldberg, Robert McBride, Holly Shockey and Lane Stowe. Goldberg also wears hats of composer and arranger for many of the songs, as well as playing piano on "St. Ita's Vision," a song written by Samuel Barber and arranged by Robert McBride.  Every holiday album should have some Christmas carols with new, fresh arrangements, and the UVJQ certainly doesn't disappoint with their closing rendition of "Silent Night," arranged by David Nokes.  The stellar accompanying musicians include Frank Russo (drums), Max Murray (bass), Alan Blackman (piano), Donato Soviero (guitar), Chuck Redd (vibes), and Keith Carr (Irish bouzouki on "Silent Night").

"A very pleasant aural journey, Fools for Yule includes some beautiful presentations of jazzy fare that we never tire of like their a cappella offering of "The Christmas Song," as well as faves like a sublime "Christmas Time is Here," rollicking "I've Got My Love to Keep Me Warm," and breezy "Winter Wonderland" (with McBride featured on guitar). While there's a certain comfort that stems from familiar holiday classics, it's original material like "Fools for Yule," "Whisper," "Santa Dear, Where's Mine?" and "It Doesn't Feel Like Christmas" that take this album to a new level. Goldberg's "L'Amour Nous Entour e Ce Soir" (Love Around Us Tonight) is a Latin-styled tune sung in French.

"Fools for Yule  is a very hip, jazzy experience that captures the magic of the season. A joyful way to start a holiday party, or to reflect on one as a fire's embers start to glow after a lively gathering, this CD's splendid music is a seasonal gift that all will enjoy.  The album is dedicated to the jazz quartet's friend and colleague, André Enceneat (1963 – 2020)."
– Joe Ross, Roots Music Report
"Its title might suggest that we're in for unrelenting goofiness and giddy Christmas obsession, but there's a little of everything in Fools for Yule. The 11-track canny Christmas collection, the fifth release from the entertaining Uptown Vocal Jazz Quartet, has quite the mix: popular season-specific selections with frequent flyer miles of coverage by so many who came before (like "Christmas Time Is Here"); a famous carol with heavenly harmonies ("Silent Night"); and, as usual, originals by group co-founding member/leader, alto Ginny Carr Goldberg, that range from the sincere to the sad. The recording even makes room for a classical piece about a revered Irish nun who died in the year 570 ("St. Ita's Vision," its music composed by Samuel Barber, a setting of ancient anonymous text). They are tastefully accompanied on most pieces by five genre-adaptable musicians. But, despite some admirable instrumental work during or between vocal passages, it's really the four singers' show and they show grace, fun and chemistry!

Needless to say, Christmas material that ventures beyond the voluminously recorded warhorses is always an attraction. For me, the standout as most artful is the one that's downbeat: "It Doesn't Feel Like Christmas," which confronts missing someone who's gone without being a full-out weeper. Heard for the first time, its appealing and satisfying melody feels already like an old friend; it seems to go just where it inevitably should.

Like other skilled, blissfully blending jazz vocal groups before them, Uptown Vocal Jazz Quartet can get a lot out of an open vowel sound like "oooooh": embellishing, bending notes, taking a note of a melody we know and turning it into a few notes, using a long wordless tone as background to one or more singers presenting the lyric. Suffice to say, lyrics and music are both treated with love and care."
– Rob Lester, Talkin' Broadway
Behind The Scenes
Click each panel for an inside look at the songwriter, arranger, performance and production credits.